Sign up and get started today!
Thrivalist is the most supportive and empowering online community for sober-curious women, recreating lives so women & future generations can thrive. Using proven, cutting-edge approaches, our Membership inspires and empower women worldwide of all ages and backgrounds to find freedom from alcohol, step into their incredible power, and reignite their lives. Our coaches and counselors are certified and professionally trained and have lived experience of overcoming an alcohol use disorder. 
There's a path to sobriety you haven't explored yet. Inside membership and courses you will change subconscious beliefs around alcohol, learn all of the tools you need to not rely on it, and build a bespoke suite of radical self-care practices that will leave you THRIVING.
So far, we have supported
to change their relationship with alcohol
Lucy Quick
Thrivalist Founder
You're tired of trying and failing to take control of your drinking, and you feel trapped in a vicious cycle. Thinking about alcohol is taking up way too much of your headspace and chipping away at your self-esteem.
You make promises to yourself, swearing today will be different, only to find yourself persuaded by the 'Wine Witch' that as soon as the clock strikes five, a glass of wine is what you need!
You start beating yourself up as the guilt sets in, and any positive changes you've made go out the window. But you can't seem to break that habit, and you feel so stuck.
I get it because I have been there. I know there comes a time when alcohol stops serving us. It stops adding enjoyment to life, and it starts taking it away…
If this is you, please know you're not alone. Nearly a quarter of female drinkers struggle with excessive drinking. So there are thousands upon thousands of women out there, just like you, who hear that quiet (but wise!) voice inside, saying, 'I deserve better, and it's time to change my relationship with alcohol.'
The Thrivalist Membership platform is user-friendly and contains all content and resources PLUS the online community all in one place!
Our courses are 100% online so that you can become part of our beautiful, thriving, supportive community from the comfort of your own home.
Accessing our community and courses is simple using both a PC or the app (even the ladies in their 60s and 70s say so!) You don't need a Facebook profile to join us; just access the internet, and voila, you're in! Please know we keep all of your information private, and we don't even mind if you sign up using an alias if it makes you feel more comfortable.
See you inside!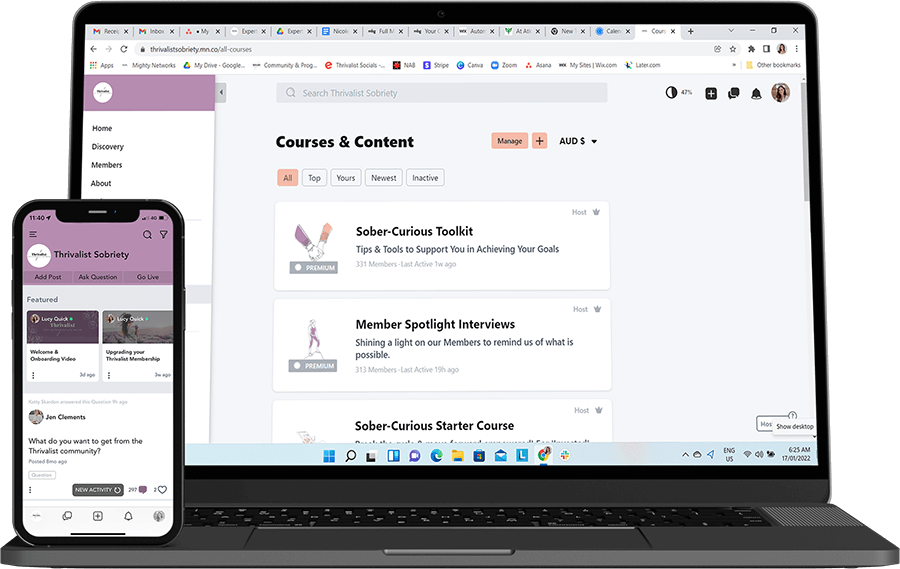 Shelley, Thrivalist Member
South Africa
'After 100 days alcohol-free, I'm more patient, and my anxiety has subsided; I'm sleeping deeply for the first time in ages too. I'm way more present with my kids and the mornings are fun now, rather than the drag they always were!
I feel so proud of myself for taking this journey with Thrivalist. The best thing is that I no longer think about alcohol all the time, and my husband and I are more connected than ever.'
Dr. Kris Adnams
Registered Clinical Psychologist & Thrivalist Guest Mentor
Thrivalist has identified the need to support moderate drinking problems with a gentle, supported and personable process. The program content is relatable and skilfully offers comprehensive evidence-based information and techniques to empower women to make up their own minds about the usefulness of alcohol in their lives.
I'm here to support you.
It doesn't matter if this is your first or 32nd try at sobriety. I want you to know right now that the only failure when it comes to sobriety is to quit quitting. Every step you have taken on your journey, has led you to this moment. It's what you do from now on that matters.
If you're looking for support, community, powerful education (that you'll never unlearn), to hugely upgrade your life, learn how to love yourself and finally set yourself free, the Thrivalist Membership is for you.
Be empowered
to change your relationship
with alcohol long-term